Autumn School 2017: Machine learning applied to systems biology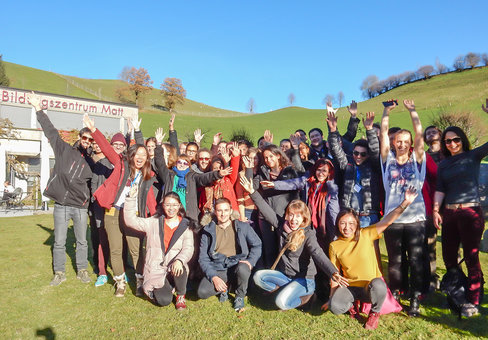 The 2017 autumn school was once again jointly organized by SystemsX.ch and the SIB Swiss Institute of Bioinformatics. The week-long practical course on machine learning took place in November at the Hotel and Bildungszentrum Matt near Lucerne. The programme involved a mix of theoretical input, lectures by experts in the field, hands-on coding and participant presentations. The participants were mainly PhD students and postdocs, although some specialists were also in attendance.
Frédéric Schutz from the SIB Swiss Institute of Bioinformatics kicked off the course with a broad introduction to machine learning. The second day was split into a morning of lectures by Eric Paquet from EPF Lausanne on best practice in applied machine learning, followed in the afternoon by exercises on hidden Markov models and image analysis. The third day gave the students an opportunity to get to know each other and their research better with presentations and an outing to the nearby Glasi Hergiswil glass factory. As the week progressed, the lectures addressed more concrete topics in machine learning with particular applications in systems biology. Luis Pedro Coelho from EMBL Heidelberg in Germany talked about using machine learning to study microbial communities, and Maria Rodriguez-Martinez from IBM Research Zurich held a session on deep learning in single-cell analysis.
The course aimed to strike the right balance between theoretical input and practical exercises. "The strength of this workshop was in providing the participants not only with the theory behind machine learning, but also by offering a set of frameworks, tools and real-life examples that we can implement in our own projects," says Garif Yalak, senior researcher at the Institute of Translational Medicine at ETH Zurich. After attending the course, he is keen to apply what he learnt to his own research: "I now feel confident in using machine learning techniques to answer my own scientific questions."
Bulak Arpat from the Centre for Integrative Genomics at the University of Lausanne valued the input from the experts over the course of the autumn school. "What I found particularly useful was that I gained invaluable information on the dos and don'ts of applying machine learning to my research," he says. Participants, however, valued not only the scientific content of the course. For Sunniva Förster, former IPhD student at the University of Bern, the workshop was also "an excellent possibility to get in touch with like-minded researchers and exchange ideas."