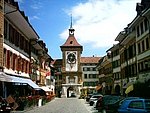 Second PhD Student Retreat
Date: September 30 - October 01, 2010
Location: Murten, Switzerland
Hotel Murtenhof & Krone
This year the annual SystemsX.ch PhD student retreat will take place in picturesque Murten, Switzerland. We are very much looking forward to seeing all the familiar SystemsX.ch faces; plus hope to see some new ones. This will be an excellent opportunity for you to interact with our excellent Systems Biology speakers; Prof. Weckwerth and Prof. Stelling. You may also present your own work, as a poster or in a short presentation. So, this event will allow you to see what other Systems Biology students are up to in Switzerland and that provide you the opportunity to discuss and interact with them too. Please register by June 30, 2010.