SystemsX.ch Retreat 2017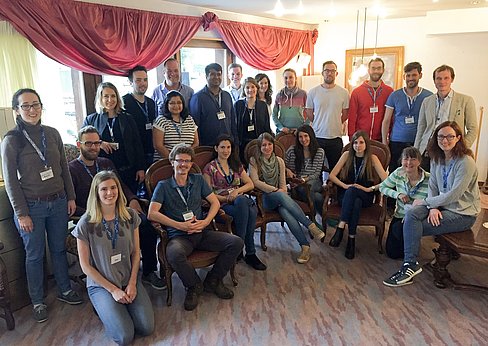 "Personality development and possible root for new collaborations"
This years SystemsX.ch Retreat was about presenting one-self and one's own work in a memorable way. More than 20 postdocs and PhD students attended the retreat from May 17 to 19, 2017 in Kandersteg, taking the chance to improve their presentation skills under the guidance of the coaching experts from hfp consulting. The feedback received shows that the young researchers profit enormously from these kinds of workshops.
"I liked the workshop on presentation skills a lot, since it addressed points and details which most lectures on this topic ignore. It not only focused on how to structure your presentation, but for example also included body language, eye contact and stress management," says Ketki Chawla (ETHZ) after attending the retreat. Oliver Hilsenbeck (ETHZ) found it particularly useful to learn how to present without using PowerPoint, and how to give feedback. "I'm sure that the skills I acquired on the retreat will prove useful for me regardless of which career path I will choose."
Another important concept that the participants learned was how to deal with individual challenges like stage fright, blackouts or panic. For Anne Krämer (UniBas), the workshops' focus on one's personal opinion of one-self and how to be self-confident was really useful: "Most of the fear of presenting comes from the lack of confidence about what you are presenting and what people think of it. So my first lesson learned at the retreat was to try to accept one's errors and – very importantly – that others may share the same feelings too," explains the young researcher.
For Gautham Yepuri (UniFR) – as for most of the participants – practicing in front of people and getting feedback was essential: "During the workshop we identified the weaknesses in our presentation skills and at the end we learnt how to work on them. I definitely feel more confident about presenting myself and my work as a result." Ivan Istomin (EPFL) also praised the course coaches: "hfp-consulting are really masters at creating an atmosphere of trust and mutual care, where everyone is heard and feels at ease contributing – even an introvert like myself."
In general, the participants' feedback shows that the workshop also provided an excellent opportunity for networking. "I would definitely recommend these workshops to others, because they not only help us to improve our personal skills but also help us to connect better socially with our peers in the SystemsX.ch community," summarizes Ketki. Or in the words of Gautham: "It was a wonderful event for personality development and a possible root for new collaborations."